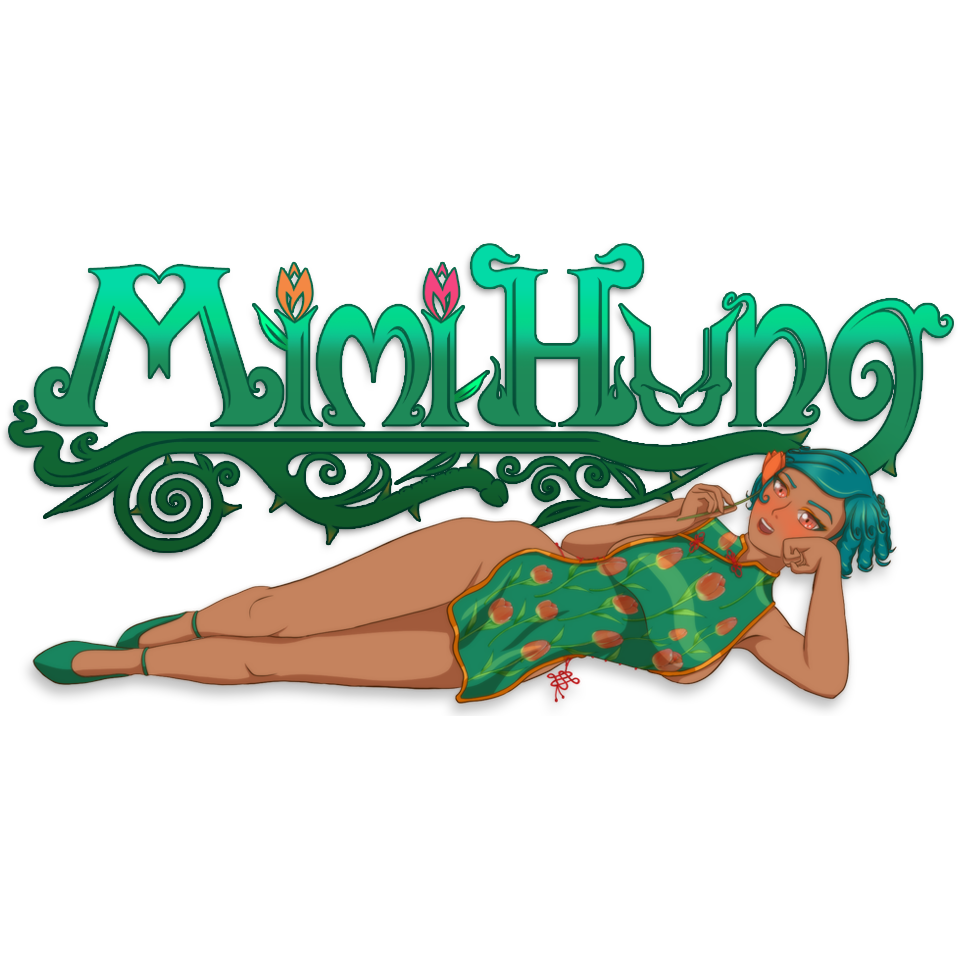 Voice Actress
and Sound Designer
Mimi has contributed her voice to NSFW audio since 2014. She uses professional studio-grade recording equipment to help you create the highest-quality audio for your animations, audio dramas, and video games. Commission her today to give your project the attention it deserves.Mimi's recording hours are Monday to Thursday, 9 AM to 6 PM CST. Requested fulfillment outside these hours may be subject to the rush fee, as detailed below.
Follow and Contribute
Scripted Rates
These rates are for pre-lay animation. If you want me to sync to your pre-rendered animation, an Animation Sync fee will apply. Read about it under Additional Services below.━━━━━♡ Long-Form Audio
For projects such as audio plays, narration, monologues, and visual novels that focus on one character per scene. One take will be provided.
❤ $0.44 per word¹
❤ $0.60 per word for vocally intensive dialogue²► ¹Vocal efforts such as (sigh) (gasp) (giggle) will be counted as words.
► ²Vocally intensive dialogue includes words spoken through screaming, crying, etc.
► "Stage direction" such as explanations or descriptions do not count toward total spoken word count.━━━━━♡ Short-Form Audio
For projects such as animation, video games, or comic dubs, in which multiple characters speak. Up to three takes given per line. Requested additional takes will be charged more.
❤ $4.50 per line
❤ $6.50 per vocally intensive line³► ³Includes single battle cries. Anything longer is will be charged at the extended vocals rate.
► Onomatopoeia such as "haah" "ngh" "mmm~" that might be denoted on comic panels and not in speech bubbles will be charged at the per-word rate.
► A "line" consists of a phrase or a single sentence. Further compensation will be required for lines longer than average.━━━━━♡ Extended Vocals
❤ $28 per minute
► Moaning, kissing, sucking, etc.
► Rounded up to $7 per 15 seconds per requested file.
❤ $44 per minute of intense vocals
► Furious grunting, pained panting, terrified screaming, breath play, and anything else that could be potentially dangerous.
► Rounded up to $11 per 15 seconds per requested file.Regardless of duration, each scripted commission has a minimum payment of $35.
Improvised Rates
❤ $45 per improvised minute, per voice⁴
❤ $65 per minute of intense improvisation► ⁴Each different character you want me to voice in an improvised audio is charged separately.
► All improvised audio is final. No refunds.Improvised commissions have a minimum payment of $90.
Commission Logistics
I must receive full payment before I start recording lines.Additional fees may be added on depending on extent of request.If your project featuring my voice is posted publicly anywhere, you must credit me for my work as either Mimi Hung or @MimiHung_VO.You must ask for explicit permission to reuse commissioned files across multiple projects.Commissioned audio does not include extra sound effects that I cannot create with my mouth and/or hands. See audio editing below for additional services for added sound effects.As the commissioner, you hold the responsibility for making sure you have the rights to the content you're commissioning me for, and that I will not knowingly accept commissions that break copyright law.No refunds once payment is made.
Retake Policy
2 free revisions if flaws in recordings are due to my own mistakes.Requested revisions due to lack of direction or change in direction (including but not limited to: deciding on a different personality or indecisiveness on voice) or script alterations and additions will result in an additional invoice with the same rates as stated above plus an additional 10% of the revision cost.Please ensure your scripts and character direction are final before the invoice is sent.All improvised audio is final.
Off Limits List
Do not use my voice for the following:🚫 Underaged characters
🚫 Parental incest
🚫 Bestiality*
🚫 Raceplay
🚫 Hate speech
🚫 Real bodily fluids besides saliva
🚫 AI voice generators*Anthro and monsters are ok.I reserve the right to turn down projects even if they do not feature these elements.
Discount
❤ Resale Discount — $0.35 per wordThis discount only applies to spoken word in scripted audio plays, not including moans, and not for animation, video games, or improv. I grant this discount at my discretion.This discount includes:
♡ A lower per-word rate
♡ Crediting you as the author in the item description with a link of your preference
♡ A promotional tweet, if you have a Twitter handle you'd like me to mentionTo apply, you must:
♡ Have a script that appeals to a wide audience
♡ Commission a complete, ready-to-listen audio play
♡ Offer me full rights to all retail profits, such as reselling it on my Gumroad store(Your script is more likely to be approved if you upload artwork with it! Please make sure you have the rights to repost it before you upload it to the form.)Discount does not apply to additional services and fees.
Additional Services
Audio Editing
Applies to audio-only commissions. Not applicable to animations or video games.❤ Simple Audio — 1 voice, sex sound effects, mono vocals
+$8 per finished minute, approximately 100 scripted words❤ Complex Audio — 2-3 voices, sex SFX, background SFX, stereo vocals
+$18 per finished minute❤ Very Complex Audio — 3+ voices, sex SFX, background SFX, unusual/hard to find SFX, stereo vocals
+$28 per finished minuteAll requested audio editing comes at a minimum of 1 finished minute. I reserve the right to charge more depending on the needs of the request.
Sound Design for Animation
❤ +$1.09 per second of animationIncludes mixing of ambient sound effects, sex sound effects, vocal effects, and more.You must send me the video to download, and after completing sound design, I'll send it back.Due to licensing, music is not included. If you want me to mix it in, you must have rights to use the track, and you must provide me with the track yourself.Minimum payment of $35.
Animation Sync
❤ +$15 plus 250% of base priceIt takes many times longer to sync vocals to animation, hence the fee. This fee only applies to animations that are rendered before vocals, not those that are considered "pre-lay," or animations that are synced to pre-recorded audio.This fee may also be applied to other commissions that request precision with timing.
Rush
For audio delivery requested within 48 hours of my response:❤ +25% or $50 (whichever is larger) for each transactionFor audio delivery requested within 24 hours and/or outside of my working hours:❤ +35% or $75 (whichever is larger) for each transaction
Privacy
❤ +25% or $135 (whichever is larger) for each transactionBy commissioning me, you agree to allow me to use the audio that I record for my own purposes, including posting publicly, putting up for sale, or putting behind a paywall such as Patreon.This privacy fee means that only you will have access to the audio.
Buyout
❤

+350% or $160 (whichever is larger) for each transaction
Purchasing buyout means that all rights and usage are handed to you. You can use the commissioned audio for multiple projects. The buyout fee will also cover the privacy fee if you want both discretion and rights.
If you would also like to be the sole person who can distribute the audio for sale or otherwise, this fee will also cover those rights.
Split Files
❤ +$0.80 for each requested takeIf you want the lines split into separate files, such as IntenseMoan.wav or ArousedGasp_3.mp3. This is per line, so any additional takes I record of my own accord will be split free of charge.
Promotional Tweet
❤ starting at +$22 for each tweetIf you want me to tweet or retweet something on your behalf to promote artwork, animation, a video game, etc.
Miscellaneous Fees
Depending on the complexity of your request, there may be a 60% upcharge.
How to Commission
You must be at least 18 years of age to commission NSFW content. By commissioning me, you confirm that you are at least 18 years old, or risk being banned.Your response must include:❤ Script, or concept if improv.❤ Information about the character, including voice type.❤ Please provide all details for context, tone, and emotion. Revision requests due to poor direction will incur a fee. (See "Retakes" above.)❤ Your preferred file type (mp3, wav, etc)❤ An email address so I can send you an invoice. Once I receive payment, I'll start recording ASAP.❤ Deadline. My normal turnaround time for audio is within 7 days unless stated otherwise. There will be a rush fee for projects needed within 48 hours or over the weekend. I normally do not record on weekends, so a non-rush commission requested on a Friday afternoon will be fulfilled the following Monday at the earliest.The form requests all the information I need upfront and saves me time so I can do a great job on your commission and send it your way more quickly. If you refuse to use the form for whatever reason, I may add on an additional service fee.Try to fill out the form first. Please request by email only if the form is down.